Show your supPAWt for renting pets!
Are you a renter with a pet? Or a renter who'd love to have a pet but can't with current NSW laws surrounding pets and renting? Come on down to Camperdown Memorial Rest Park between 2pm and 4pm on Saturday 19 November. 
Make Renting Fair and the Tenants' Union of NSW will be there to collect opinions and experiences from renters in the community about pets & renting. With pets and renting on the NSW Government's radar right now, your stories can be part of the change to NSW renting law to make it fairer on renters with pets.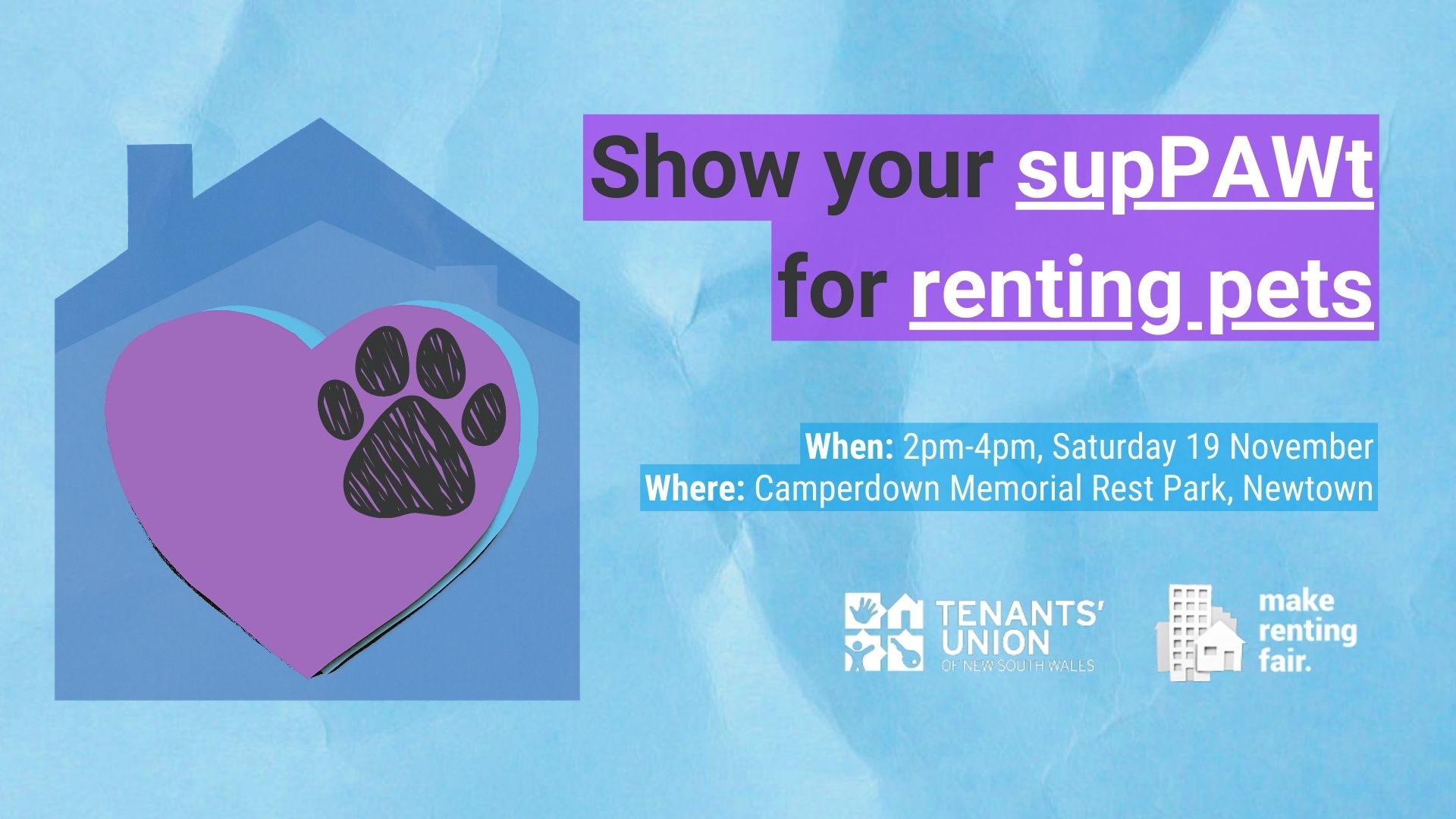 What's going on for NSW renting pets right now?
NSW tenancy law still allows for blanket 'no pets' clauses, so landlords can continue to refuse requests to get a pet for any reason, or no reason at all. Renters in NSW can negotiate with the landlord to get permission to get a pet. However, the final decision is up to the landlord (unless it is an assistance animal, for example, a guide dog).
The rules around keeping pets have recently changed in some other Australian States and Territories to make it easier for tenants to keep pets. For example, the landlord may be required to go to the Tribunal to refuse a pet, or may only be allowed to refuse a pet for certain reasons. The NSW Government is now holding a consultation on whether the rules around pets in rentals in NSW should also change.
What does Make Renting Fair think about pets and renting?
Renters need homes that feel like home. A rental is not just a landlord's property, it's a person or family's home. Renters should be able to make simple choices to make the house they live in a home, including whether they adopt a pet. We support a change to NSW tenancy law to end blanket 'no pets' clauses.
We will be putting forward a submission to the NSW Government consultation on pets and renting, in support of reform. We would like to hear from NSW renters about your experiences renting with pets (or unable to get landlord permission for a pet!). We will take the stories, views and experience that our community of renters shares with us to collate our submission.
Have your say...
...in our survey
If you're a renter anywhere in NSW who has opinions on renting with pets, please share your experiences and views in our survey. 
...in person
If you're free on the afternoon of Saturday 19 November and can make it to Newtown, come on down in person to let us know your experiences and opinions on pets and renting! We'll be at Camperdown Memorial Rest Park between 2pm-4pm on Saturday 19 November to meet with renters in the community about pets and renting. You're welcome to come on down even if you don't have a pet — especially if current NSW laws are the reason you don't have a pet in your rental.
You can share however you feel most comfy — you can stay totally anonymous and give us some quotes to use, you can tell us how you feel on camera, give us a story in a voice memo, be in pictures (or have your fur-baby in pictures!).
Help your renting pet(s) have a say
You can even help your pet have their own say in the consultation. If you're coming on down to Campo, we'll have non-toxic, pet-friendly paint for your animal to sign on to support the call for an end to blanket 'no pets' clauses in NSW. If you can't make it along (or your fur-baby isn't park-friendly!), your pet can sign on from home.
1. Download & print the pet sign-on (below).
2. Add your pet's 'signature' paw-print using non-toxic paint (kids' fingerpaints work great!) or trace around your pet's paw onto the sheet with a pen or pencil.
3. Take a pic of your pet with their sign-on
4. Send us the pic either via email on riley.brooke@tenantsunion.org.au via our survey.
5. Bonus points if you also upload your pet's sign-on to social media!